UPDATE: I have renamed this post to better reflect it's content. The original heading was as follows but make sure you keep reading to see other battery test scenarios I have tried out and to find how to maximise battery life for long workouts.
You can log 100 miles of cycling with Apple Watch 3 before the battery runs out
OK disclaimers right up front:
That's 100 miles so long as you can do it under 6hrs 42mins including stops Like this one. Your mileage may vary.
I didn't actually ride 100 miles for this test - more like 50, then extrapolated the results.
You have to turn Mobile Data off.
You have to use an external Bluetooth Heart Rate sensor (e.g. a Chest Band) rather than the built in optical one.
You can't have anything playing through AirPods or any other headphones.
I used the Apple built-in Workout app and nothing else.
I've been testing battery life in various scenarios since I've had my Apple Watch series 3 LTE - more on other scenarios below but here's how this one was set up.
The Set Up
My watch is running watchOS 4.1
I charged my watch to 100%, then restarted it (not sure I needed to do that but wanted to make sure no apps could be running and burning battery) then messed around getting into my cycling lycra, getting my bike ready etc so by the time I was ready to leave it was at 99%
I swiped up from the bottom of a watch face, tapped the Mobile data Icon, then turned off Mobile Data.
I took my iPhone with me but I turned it off because I wanted to make sure it didn't affect the test at all. Of course that meant I was off-grid and free, and my family couldn't track me using Find My Friends - it gave me a sense of enormous well being (though comforting that I could turn the watch mobile data or phone back on again in case I needed to call anyone - I've tried raising my arm for support but it doesn't seem to cut it, so being able to call my wife on occasion is nice).
As pointed out in the comments, if you take your iPhone with you, you can get even better battery life (see below)
I wore a Bluetooth Heart rate strap, a Wahoo Tickr X, and connected it to the watch. To do this put the strap on, go to Settings > Bluetooth on the watch and you should see it in the Health Devices section. Tap it to pair. It's not obvious elsewhere on the watch that you are using an external HR strap, but I did notice that it's much quicker to get a reading when you use the standard heart rate app, it is almost instant with the external HR strap connected, compared to a few seconds if you are using the built-in optical one. To disconnect later just take the strap off, or go to settings again and tap the little (i) icon next to it and select "Forget Device". There doesn't appear to be a way to make Apple Watch automatically connect, you will need to go into settings ahead of each workout I'm afraid.
I put one of these chargers in my jersey pocket just to be safe
Note that I initially thought that I could get the same benefit as above by simply turning Workout Power Saving Mode on (Settings > General > Workout on Apple Watch or Settings > Workout on the iPhone Watch app) which is supposed to disable the built-in HR and turn off mobile data - should be perfect! However when I tried that on other rides, I was confused to find that it didn't seem to turn off Mobile Data. Then I re-read the text for this setting, and it clearly states that it is only for walking and running which is strange. There is a distinct bias for running currently in settings - auto-Pause for example is only supported for running and not anything else - it would be very useful for cycling.
The Ride
With that I started Outdoor Cycling on the workout app and set off for my ride. Here it is:
It was a nice ride on a lovely day and I managed to grab some nice photo's using my GoPro Hero6 while riding.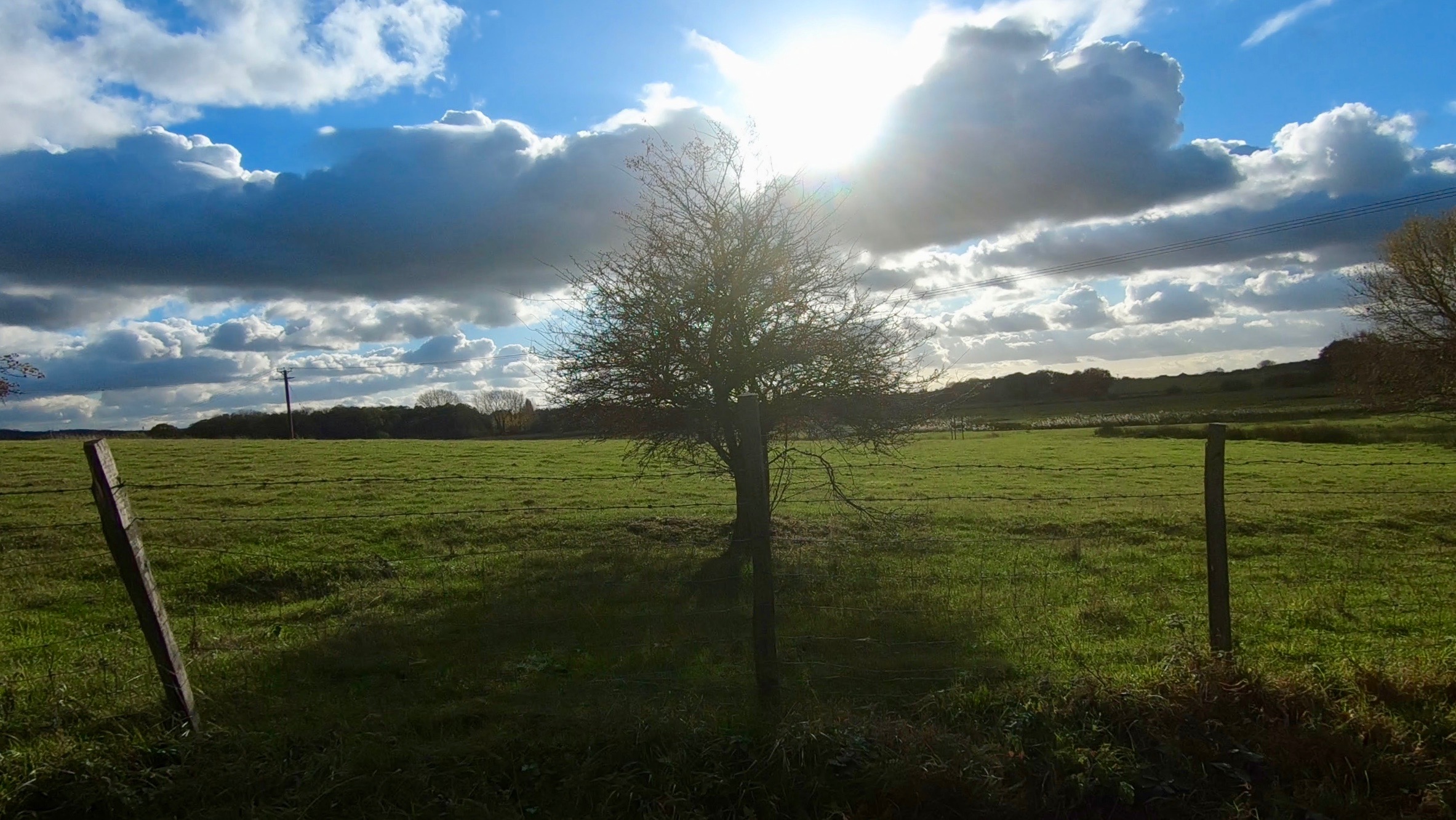 And for those of you near Kent, UK the destination was a great pub called The Monument in Canterbury - they let me put my bike round the back in the garden, and they serve an exclusively plant based menu - I met my wife and sister-in-law there, together with her husband who is famous for his love of meat, but everyone really enjoyed the burgers and desserts that were completely meat and dairy free - recommended!
How the battery performed
So for the ride above the stats are :
Started with 99% battery
Finished with 52% battery
Total duration (including short stops are junctions etc): 3h 9m
Expected battery life at that rate: 6hrs 42mins
That was better than I expected.
Other battery tests
I have been playing with battery tests in the following scenarios:
Running and Cycling, Indoor and Outdoor
Using the Built-in HR Sensor or an External BLE one
Using Workout Low Power Mode (see above)
Playing saved music through Airpods
Streaming music through AirPods via LTE/4G
Taking your iPhone with you
and here are my conclusions
Streaming music is how to burn your battery fast - 90 mins total!
The straight out worst case scenario for battery life is running outdoors with the built-in HR sensor, and streaming music over LTE/4G to your AirPods. I did this with a short 30 min run listening to Beats1 radio, and I used 35% battery meaning total life is going to be in the 90min total battery life region. The area I ran in doesn't have great mobile coverage so that could have impacted it as it searched for signal, however I only had one very short (2 seconds) drop-out from the music at that time, so I am assuming it wasn't that bad. If you are going to do this then you probably need to charge your Apple Watch after your run, and you are probably not going very far.
Running and listening to *saved* music is much better - around 4-5 hours
If you sync your music to your watch ahead of your run, then listen to it over AirPods you get much better battery life, even with Mobile Data on. Depending on the route, I have records going from 3h 45mins to 4hr 45 mins in this scenario, with the lower case when I am in and out of a good phone signal, making the watch seek.
Turning off Cellular Data increases battery life - about 5.5 hours.
Cellular is clearly the biggest drain on battery life. If you don't need notifications, don't want to stream music, and don't want to be tracked using Find My Friends, and want to go on a long ride or really long run, then consider turning it off, then back on just when (if) you need it. I got 5.5 hours on an outdoor bike ride, built-in HR, GPS on (you can't actually turn it off), but with Cellular turned off.
For absolute best battery life with Apple Watch by itself when outdoors use external HR sensor and Mobile Data off, - about 6.5 hours.
As above you can get 6.5 hours for this scenario - that's your 100 miler ride sorted :)
*UPDATE* Take your iPhone with you and get around 9 hours
In the comments in this article, it was suggested you'd get better battery life if you take your iPhone with you, and turn mobile data off on the watch. I'm not sure if that means Apple Watch is purely using the GPS from iPhone, but on a 2hr cycle at the weekend, I only saw around 11% battery loss per hour on the Watch, meaning an expected 8h 50m life for Apple Watch - not as good as Indoor use, but impressive none the less.
Indoor use is not an issue - 15hours plus
For running on a treadmill or using a turbo for your bike, or strength and conditioning at the gym, where you are using the built-in HR but connected to your iPhone or Wifi, and with no GPS needed, then battery life is in the 15+ hours realm. It's not going to be an issue.
Conclusion
Clearly there is a huge range of battery life here when performing a workout - from 90 mins to 15 hours! You will need to make a call on how much battery you need for the activity (and the rest of the day without charging) and adjust accordingly.
Bottom line though is that there are no scenarios for my IronMan training that won't fit into one of these approaches. And for the actual IronMan event itself I feel encouraged. The swim will be fine, and if I can creatively charge on the bike for a bit so it's fully charged when I hit T2 then I should be OK for the run (even if I have a bit of a run disaster like in my first IronMan and take 6 hours!).